(all photos: Stina Stjernkvist/SVT)
Today saw all of the artists competing in Heat 4 of Melodifestivalen 2021 this Saturday, take to the stage in Annexet Stockholm and have a proper run-through of the songs they'll be competing with – and the performances they've crafted to sell them to voters!
SVT gave us access to watch each of them throughout the day, and you can read our reviews of all seven below.
To read more about the artists competing, check out our guide to Melodifestivalen 2021 Heat 4.
You can listen to 60-second snippets of each of the songs right here. SVT will be uploading 30-second clips of each of the reharsals to the same place later this evening.
Tess Merkel – 'Good Life'
(Tony Malm, Tess Merkel, Palle Hammarlund, Mats Tärnfors)
Our disco-defending showgirl gives us the perfect opener for the evening. And as you go down the line of the other six entries on the night, you'll realise that it doesn't get more feel-good than this. It's a performance that makes excellent usage of all of the lasers and lights on offer to her, and in which she takes over the stage in not a dissimilar way to the first performance from last week, 'Still Young' by Charlotte Perrelli. The whole thing is bookmarked by a fabulous moment at the beginning of the performance when Tess ARRIVES, plus a final 30 seconds in which she manages to capture all of the fireworks and euphoria of an Alcazar performance. Perhaps most eye-opening of all, however, is what she's wearing – bright-pink latex hugging her in all of the places that will guarantee her the most attention! With the outfit, the hair, and the self-assured look on her face, however, she is up there looking fantastic for the occasion of her long overdue solo outing at Melodifestivalen. And the song itself – 'Good Life' – is already sounding like a keeper in its live incarnation, so we imagine the studio version is going to be essential listening for pop fans in the coming weeks.
Lovad – 'Allting Är Precis Likadant'
(Mattias Andréasson, Alexander Nivek, Lova Drevstam, Albin Johnsén)
A massive drop in energy from the previous performance, but rather than capitalising on this and inviting us into a captivatingly atmospheric rendition of the song, Lovad commits the number one sin that you never wanna commit at Melodifestivalen – she bores us. There are going to be a lot of people looking at their phones a minute or two into this performance, and it certainly won't be to vote for it in the Melodifestivalen app. There's a well-composed song in there, and we're definitely looking forward to hearing it on Spotify on Saturday night. But this performance is neither compelling nor engaging, and is going to end up seeing to it that Spotify is indeed the only place we'll be stumbling upon the song again.
Efraim Leo – 'Best Of Me'
(Efraim Leo, Cornelia Jakobsdotter, Amanda Björkegren, Herman Gardarfve)
And we're back to having some fun, mercifully! Efraim brings an energetic performance of a nicely catchy tune with him into the contest. Is it fresh? No. But it's a tried and tested formula for a reason. And that's to give the 3,000,000 Swedes at home precisely what it is that they've tuned in for – some uplifting Saturday-evening entertainment. He's competing against some big names tonight, but there are plenty of elements in his song that are infectious enough for him to be a real contender on Saturday. It's something that will stand out in the voting reprise, for sure. As will the winning smile that Efraim sensibly kept on show during today's rehearsal. Eurovision and schlager fans might spot a (probably unintentional) homage to the riff of Charmed's 'My Heart Goes Boom', from the 2000 Eurovision Song Contest in Stockholm. And once you hear it, you can't un-hear it – for the duration of the track! Not that we're complaining, mind.
The Mamas – 'In The Middle'
(Emily Falvey, Robin Stjernberg, Jimmy Jansson)
This performance just induces the biggest smile. Not just because it's so great to see them back here after the unfortunate turn of events last year that led to them not being able to represent Sweden at Eurovision despite their Melodifestivalen win, but also because of the evolution of the band we see on display. It's The Mamas 2.0, if you will. This is perhaps best represented by the fact that the start of the performance is actually a pre-record of them singing the song while decked out in the outfits and hair in which they performed 'Move' last year. Fast-forward to the first chorus, and a brand-new group has emerged and is singing live before our eyes. Not in the funeral colours of last year's upset, but in the sparkling gold of what is hopefully their bright future. It's not just their look that has changed, however. Throughout 'In The Middle', the three ladies are much more fluid in their performance, with the new stage concept allowing them to move around into multiple formations and chapters of the the performance. It goes without saying that the vocals were utterly flawless, even on what was today a first camera-rehearsal. And the song itself, while definitely more low-key than 'Move', is both uplifting and strong enough for them to be considered serious contenders to take the win again in that final next month – which, after today's performance, we have no doubt they'll be featuring in.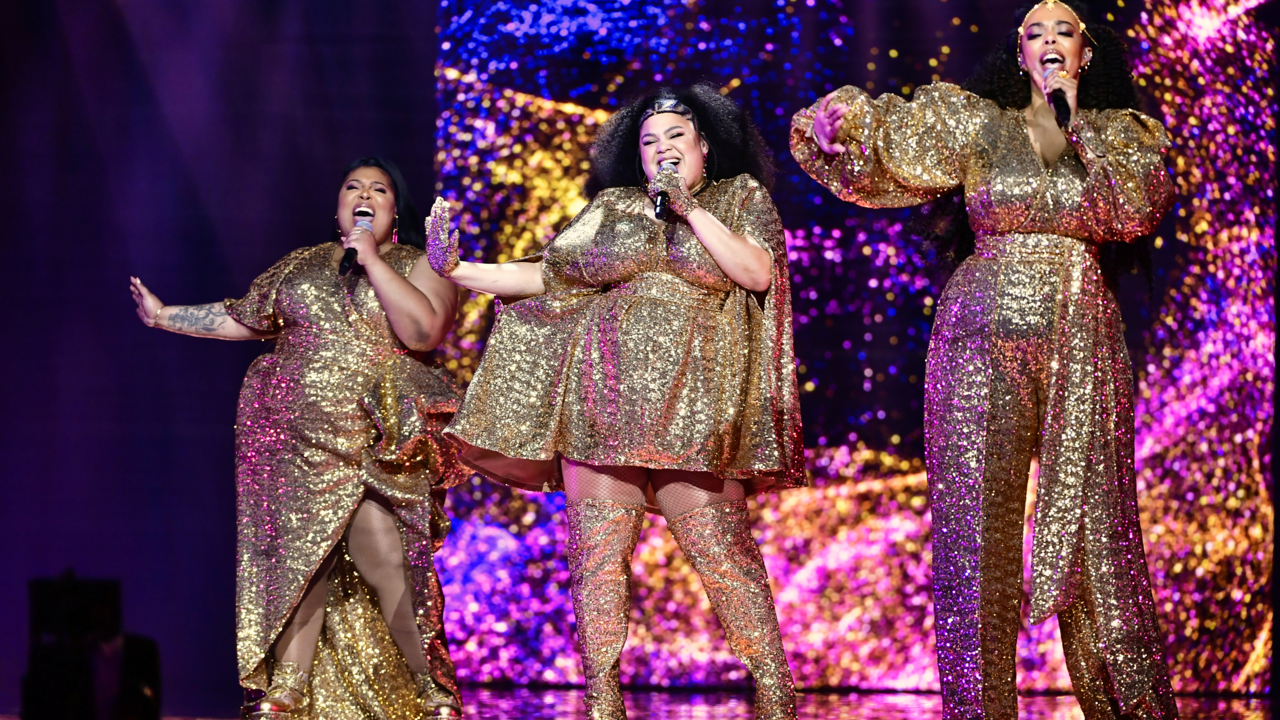 Sannex – 'All Inclusive'
(Greta Svensson, Hans Thorstensson)
Well the fun dansband song is certainly out in force here, but the fun dansband itself – really isn't. There was a lot that could have been packed into this performance, but the band are seemingly being a bit tight and flying off on their all-inclusive bringing with them only some hand luggage to tuck under the seat in front of them. And for a song with a title as exciting as 'All Inclusive', they're not exactly going all in, either. Rather, stopping after the first plate and keeping the evening to a two-drink minimum. As the only other dansband song and performance in the contest this year, comparisons to Arvingarna will be unavoidable. And that's going to be unfortunate for Sannex, because the the two are in a completely different league to one another. And whereas Arvingarna are currently experiencing a whole new golden era on the back of the contest, on the basis of this performance it'll probably be a while before the Sannex lads are invited back.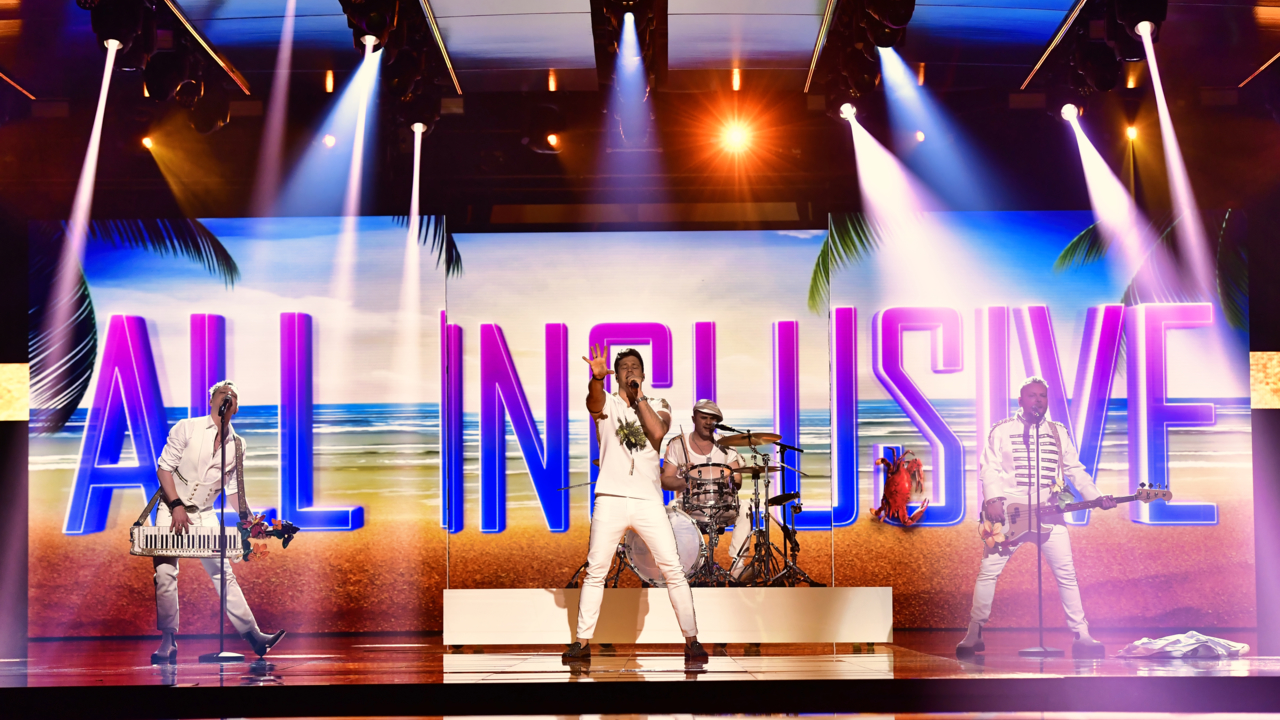 Clara Klingenström – 'Behöver Inte Dig Idag'
(Clara Klingenström, Bobby Ljunggren, David Lindgren Zacharias)
For us, this was the most pleasant surprise of the day. Going into the contest on few people's radar, Clara Klingenström has ended up providing us with one of the best songs of the whole four weeks. And it's something which we think is going to have somewhat of a universal appeal to it, too. Beautifully melodic, and with what will be a real gut-punch of a lyric to viewers as well – when Clara confidently asserts that she no longer needs the person she once relied so heavily upon, coming to the realisation before our very eyes. Also, rather than 'The Silence' by Frida Green from Heat 2 (which Anna Bergendahl co-penned), we'd say that if any song was the logical follow-up to 'Ashes To Ashes' and 'Kingdom Come' in the 2021 contest, it's this one right here. Performance-wise, there's not really a lot going on throughout. But then nor does there need to be. Instead, the focus is put entirely on Clara – delivering her story to us, and letting her emotions give us all the visual aids we need. It's a tough heat, this one – but we hope that this song finds a route to the final in some way. It would be a shame if its Melodifestivalen journey ended on Saturday night.
Eric Saade – 'Every Minute'
(Eric Saade, Joy Deb, Linnea Deb, Jimmy 'Joker' Thörnfeldt)
By now, viewers have come to expect that SVT reserve slot 7 in Heat 4 of Melodifestivalen for the real star turn of the year. The biggest name, with a blockbuster performance. And they certainly won't be disappointed on Saturday night! It's arguably quite a simple staging that's been constructed for Saade, utilising only a flat white platform surrounded by a black curtain. But that's all the effect needs. And with 'Every Minute', it's what the artist himself does that makes the performance really pop. Throughout it, we see a very different Eric Saade than what we've previously witnessed on this stage. And we hear a very different Eric Saade too. Whereas before he was heavily reliant on backing vocals, in 'Every Minute' his voice comes to the fore in a dominant way that it hasn't done in the past. Despite this, he is still able to treat the performance like a dance number, but not in the same way as the three numbers he's brought to the contest before. Instead, he's seemingly been inspired by two things: 1) Drake's most infamous music video – 'Hotline Bling', and 2) Melodifestivalen's most infamous performance – Loreen's 'Euphoria'. The flashes of 'Euphoria' are initially brief throughout the song, relegated to parts in which he's shrouded in darkness and not singing. But the arrival of dark figure looming beside him before joining in on the dancing definitely takes us back to that place in 2012. As for the song, it should hopefully be applauded for – and stand out for – the fact that it doesn't sound like it was composed especially for the contest. Instead, it sounds like a hit single in its own right. And the song – coupled with that performance – should put Saade right back up at the top of the betting odds for winning the whole thing. SVT have saved the best for last once again, without a shadow of a doubt. And regardless of the result on March 13th, this song and performance combination should be well received enough by his country to launch Eric Saade into his next long overdue imperial phase.