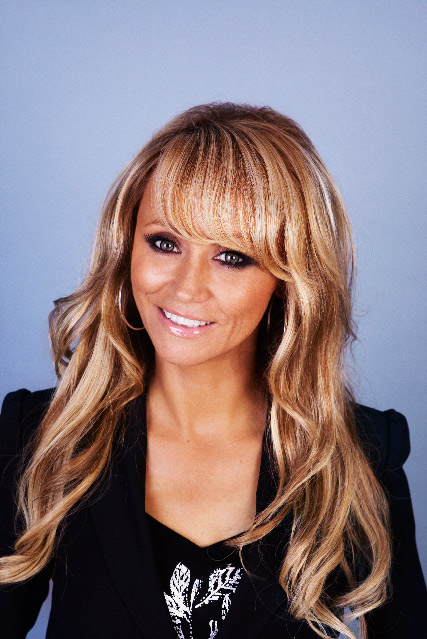 Nanne Grönvall is celebrating 25 years in music this season. Not only with a retrospective showcase via a national tour, but also with a rather fabulous new album 'En rastlös själ'.This woman has achieved so much in those 25 years. She's given us countless well known and much adored hits, not just as a solo artist, but as part of her old groups One More Time and Sound of Music. And it's not just her music that is loved. The legendary lady herself is a huge favourite with Swedish people and international schlager fans alike. We love her attitude, her offstage adorability, and her inimitable performance style. So it was a great pleasure and a huge honour to meet up with Nanne a few weeks ago in Stockholm, to speak about her new album, to go back through her favourite moments in those 25 years, and to touch down on those rumours that One More Time are considering a comeback!
And here's what we discussed!
You can read our review of the 'En Rastlös Själ' album here.
scandipop: So Nanne, this autumn, you're celebrating 25 years as an artist. When you started out in the group, Sound of Music, back in the eighties, did you ever allow yourself to imagine that you might one day be celebrating this landmark? Not just the fact that you've made it this far, but have been consistently successful throughout?
Nanne: No I didn't. I could never ever have imagined this. We started Sound of Music 25 years ago, and 24 years ago was when we first participated in Melodifestivalen. And at that time I was still working as a telephone operator. But Peter and Angelique in the band, they kept saying ''you have to quit your job''! But I didn't dare believe that I'd be able to work with music full time, I thought that it would just last a couple of months. So I was actually still working as a telephone operator during the time we participated in Melodifestivalen. But then it got so hectic after that, that I had to quit. But I was really nervous about quitting, because I have always wanted to be secure you know, to have security. To know that I can pay my bills and everything. So I could never have imagined no, that 25 years later I would still be working with a job that I LOVE! And I'm so grateful that I still have an opportunity to work with it.
scandipop: And I can only imagine that it must be impossible to pick a highlight out of all of that. But can you?
Nanne: Aaaaarrrgh! Oh there've been several. But maybe when we participated in Melodifestivalen and we won, with 'Den Vilda'. That was a fantastic adventure. And also to do 'Avundsjuk' in Melodifestivalen was fantastic, because that was the first time I'd ever done anything solo, I'd never done anything solo before. And I was so nervous, really really nervous. I was a total wreck. So I can't remember anything from when I was on stage performing that, as I was so nervous! But I felt so proud afterwards that I'd done what I'd been so scared to do. That was fun, to do my first solo thing and see that people liked it and people enjoyed it, and had the same sense of humour as myself, with the ears and the lyrics and everything. Erm…..and 'Håll Om Mig' – fantastic, with the response I got from the audience. 'Highland' also – the first release we did with One More Time, which became quite a big hit around several countries in Europe. So that was a real adventure, to travel around. So yes, there've been so many exciting moments.
scandipop: And which moment do you think would be the favourite of Nanne Grönvall fans? Is there one thing in particular that they always mention to you when they meet you?
Nanne: Actually 'Avundsjuk' and 'Håll Om Mig', yeah.
scandipop: The two iconic performances!
Nanne: Yeah, it's absolutely those two that are the favourites. I would say that the young kids from about the age of 5 or 6 up until 10, their favourite is 'Håll Om Mig', because they often sing it in schools, and on Singstar too…..
scandipop: Ha ha, I've actually sung it on Singstar too!
Nanne: Aaaahhh, ha ha ha! Yes. And 'Avundsjuk' is the favourite of the older ones, because they love the lyrics about the envy. Yes, I think it's definitely those two.
scandipop: And then are there any moments in those 25 years that perhaps you regret, or that you'd rather forget?
Nanne: Hmmm, no. There have been ups and downs, lots of ups and downs. But then it's quite important to have both your ups and downs, as that makes you more humble. And more grateful when things are going well. So I don't think so. I mean, during those 25 years of course it's been really tough sometimes. But it's been worth it. And you have to be really stubborn to hang on during these ups and downs. So I wouldn't say I would regret them, but yes I have experienced them. Good and bad, ha ha.
scandipop: Ok. I saw your tour last month, and really enjoyed it. A great night out! And it was a pleasant surprise to see that as well as doing your own songs, you were also joined on stage for some of it by your old bandmates, from both One More Time and Sound of Music! So what was it like performing with them again?
Nanne: Oh it was great fun. Great fun. I love both of them. And it was actually the first time that the three of us, we even did a song together! But yes, I love them both. I've got such a great connection with both of them. It was really really fun to do that.
scandipop: And of course you're making new music again with Maria for One More Time, aren't you?
Nanne: We have plans, but nothing started yet. We have written some songs, but we have no real plans yet for when. But definitely sometime, we're gonna do something, yes.
scandipop: So there's definitely new songs that are coming together that will be released in the future, yes?
Nanne: Yes, absolutely. Some day.
scandipop: And do you think you'll ever make new music together with Angelique, as part of Sound of Music again?
Nanne: No. We have different tastes in music, and different visions musically, with what we want to do. So no, it's either solo or One More Time for me right now.
scandipop: And of course the music you're focusing on right now is your brand new album, 'En rastlös själ'. So tell us about that.
Nanne: Oh it's been great fun doing it. I started writing the songs for it about one and a half year ago. And for the first time, I actually produced it myself. So that's been really exciting – writing the songs, then recording it myself, then programming, and adding synths and bass, and then going into the studio and working with musicians. And then Peter, my husband, he put it together and put the final touches to it, to make it sound so good.
scandipop: And Peter has produced your music for decades now, so what did he think of your first attempts at production?
Nanne: Oh he's so proud of me! He's actually been the one that's actually encouraged me. And he also encouraged me to keep a lot of things that I recorded, to keep them on the album. He would say "yes, we need to keep this, it's good". So he's been very encouraging.
scandipop: The overwhelming feeling that I got from the album is just that it's so much fun. And it sounds like you had so much fun making it. On tracks you're laughing, your voice is so expressive and animated, and it sounds like it would have been a lot of fun to be in the studio with you as you're singing and recording.
Nanne: Yes we really had a lot of fun recording. But also writing the songs too. I never had so much fun writing as I had writing the songs this time. I had so much inspiration, and so much that I wanted to express. And it's a very positive record. There's a lot of humour, and there are a lot of funny lyrics. But there are also serious lyrics, because I like to have the whole spectrum.
scandipop: And you've certainly got your own inimitable style of singing. It often sounds like you're storytelling, like you're telling a really crazy story. Is that something which you've consciously crafted for yourself? Or does it just come naturally when you're singing those types of songs?
Nanne: It's just a part of me. To me, singing a song is like telling a story. I love singing and I love being on stage. And doing it in a very theatrical way.
scandipop: Ok. So because you've played such a big role in the making of this album, would you say that it's the album that you're most proud of in your whole career?
Nanne: Yes. Absolutely. I'm proud of all of them, but this one has been so special since I produced it myself, and I've worked so much more on the details than I've ever done.
scandipop: It's a true Nanne album from the heart! From the soul – from the rastlös själ!
Nanne: Ha ha, yes! It absolutely is. Every single track.
scandipop: Your whole career is punctuated with appaearances at Melodifestivalen. What are your thoughts on it? You must love it!
Nanne: Yes, I love it! I'm so grateful that I've had so many opportunities to participate, it has meant a lot for me in my career – with Sound of Music, with One More Time, and also solo. It's all so much fun. It's very hectic, but there's something about it that's just magic, to be there. And maybe it's the competition element, but it gets you extra edgy and extra nervous. I just love it. And when I don't participate I always watch it. And I'm so glad that it had become so big. Because in the 80's and the 90's it was ups and downs and ups and downs. Some years it was so popular and most performers wanted to participate, and then a few years later, every single record company would say no, and would not let their singers or bands participate.
scandipop: That was in the 90's wasn't it?
Nanne: Yes, it was very shameful to be there then, ha ha. So I'm so glad that it's in fashion again.
scandipop: So Nanne Grönvall can be cool again, ha ha.
Nanne: Oh I've never cool, so that's why I've always been there – even the down period in the 90's! Ha ha. It suits me perfect!
scandipop: And do you think that maybe you aren't gonna stop entering until you win as a solo artist?
Nanne: I have no idea. But I'm pretty sure I will turn up there again one year! I think it's more because I love this event. Winning isn't that important. Because I also know that when I participated with 'Håll Om Mig', and I came so close to winning, a lot of people said "oh you must be so sad that you didn't win", but I wasn't, because I knew that if you do win and you go to Eurovision, everyone has so many expectations. So to come in 2nd place was perfect because everyone feels a little bit sorry for you that you were so close to winning, ha ha! So you just get the best pieces of everything! And then when you go to Eurovision and you compete, we competed with 'Den Vilda' and came 3rd, and I think that was the sixth or seventh best finish ever for Sweden at that time, but still that was a little bit disappointing for the Swedes. They had been expecting us to win. So they were disappointed with 3rd. But nowadays, ha ha, they would be really happy if Sweden got 3rd in the competition, ha ha!
scandipop: I think your most famous Melodifestivalen appearance is in 2005 with 'Håll Om Mig', which you've just mentioned. And there was quite a controversy when you didn't win, because you got such an overwhelming amount of televotes from the public. Afterwards, pretty much everyone said that you should have won that year, and they still do. But five years on, what's your opinion on how things turned out with that result? How do you feel about what happened?
Nanne: Good. In the end it became a really big hit, people are still singing it. So I think I really got the best result out of it. It's great fun to win but it's also great pressure. There are so many expectations on you. So not winning, and ending up 2nd, 3rd, 4th – that's a great luxury, ha ha! And that doesn't mean that I don't want to win of course. If I participate again, I will have it in my mind, just like everybody else wants to win. But to me it's no big deal. I can understand those who haven't won, that they really really really want to win. But for me, because I know it's also a lot of other things involved with winning, I think "2nd?….hmmm…fantastic"! So it's more just to get this opportunity to reach an audience.
scandipop: Is it true that One More Time have submitted a song for Melodifestivalen 2011?
Nanne: We sent one in yes, but it didn't get through.
scandipop: You know for definite?
Nanne: Yep, I'm pretty sure. We haven't heard anything, so….
scandipop: Ok. And finally, even though you didn't compete in Melodifestivalen 2010, you still gave one of the most memorable performances when you opened the show with 'Holding Out For A Hero', singing with Charlotte Perrelli and Sonja Alden! How did that come about?
Nanne: That was Edward Af Sillén who contacted us and who wanted us to do it. And it was great fun. It was a luxury to be able to participate without having to compete. And also, it's much easier to do a great act, a great show, out of a worldwide hit like that song is. So we were really grateful that we got a chance to do it, it was lots of fun to be there.
scandipop: Are you always going to stay true to schlager, Nanne?!
Nanne: Always, ha ha! Always. It's in my heart forever.