(all photos: Stina Stjernkvist/SVT)
Today saw all of the artists competing in Heat 2 of Melodifestivalen 2021 this Saturday, take to the stage in Annexet Stockholm and have a proper run-through of the songs they'll be competing with – and the performances they've crafted to sell them to voters!
SVT gave us access to watch each of them throughout the day, and you can read our reviews of all seven below.
To read more about the artists competing, check out our guide to Melodifestivalen 2021 Heat 2.
You can listen to 60-second snippets of each of the songs right here. SVT will be uploading 30-second clips of each of the reharsals to the same place later this evening.
Anton Ewald – 'New Religion'
(Jonas Wallin, Joe Killington, Anton Ewald, Maja Strömstedt)
No props, no tricks and no games for Anton Ewald. For the performance of 'New Religion' he relies solely on lights, tight choreography and that winning smile of his. In that sense it's very reminiscent of the performances he gave in Melodifestivalen 2013 and 2014 – for 'Begging' and 'Natural'. And so that familiar performance concept will this weekend be the perfect re-introduction for Sweden to Anton – who has been away from the stage for pretty much half a decade now. Said choreography doesn't kick in until the arrival of the second verse, so its presentation is felt with more of a bang, in that respect. The final 30 seconds of the song seems to be very challenging. vocally – but even in this camera rehearsal he's already giving it a lot more welly than the heat-opener last week. Special mention must also go to the middle eight, which reminded us of an all-too-forgotten Melodifestivalen classic – 'Just A Little' by Love Generation. Bonus points to Anton if that was intentional!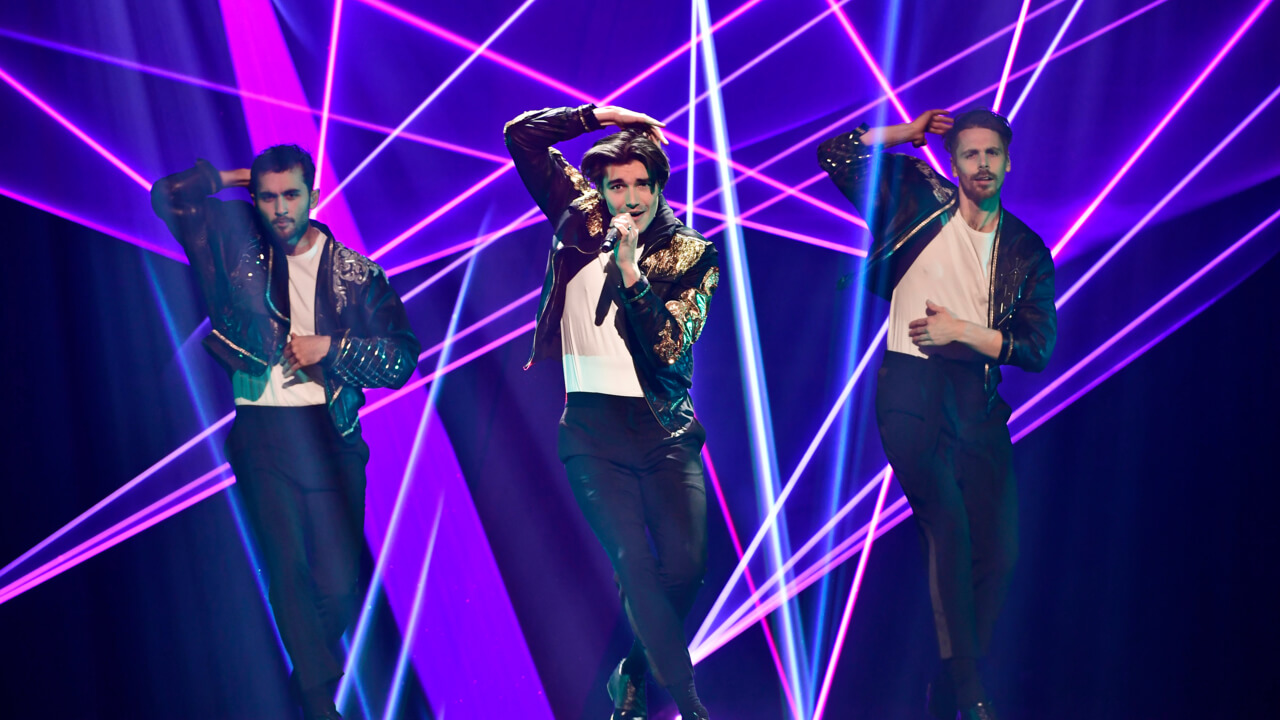 Julia Alfrida – 'Rich'
(Julia Alfrida, Jimmy Jansson, Melanie Wehbe)
This is a very well crafted staging in that it's clearly been tailored towards the song. Where 'Rich' seems to get bigger and bigger with each chorus, so too does the stage get flooded in more light as the song progresses. And so what starts off as a fairly dark blanket of red light to match the understated intro to the song, by the end has morphed into a colourful explosion just in time for the rousing final chorus. The song's build-up is definitely the its secret weapon. So whereas you might have written it off within the first minute, by the time it's over you'll be worrying for your faves' chances at progressing further in this competition, with 'Rich' snapping at their heels with some force. Julia Alfrida could well break the cycle of P4 Nästa entries failing to qualify to at least Andra Chansen. And for her to arrive into the comtest as something of an underdog, yet bring with her such a competitive entry, should be seen as a victory in itself. If it does indeed end up being released onto Spotify on Saturday night, it deserves to be a big streaming hit. Extra kudos goes to her for the backdrop she uses in the performance, too – she may be standing alone on the stage, but she's backed by a pleasantly diverse line-up of people on the screen behind her. Representation matters, and she's brought everyone along for the ride.
WAHL feat. SAMI – '90-talet
(Sami Rekik, Christopher Vahlberg, Josefin Glenmark, Jesper Welander, Andreas Larsson)
Forget the hip-hop past that you've read about regarding both of these artists, for Melodifestivalen they've come all popped up for Swedish Saturday-night TV viewers. For the performance, the chaps certainly make the stage look more colourful than it has done so far in the competition, and we love to see that. The colour is further complemented by some delightfully garish '90s fashions, themselves brought to life even further by some truly hyperactive dancing. As for the song itself, unfortunately it's not quite exciting enough to maintain interest for the full three minutes. The arrival of the first chorus does seem like quite a big moment, but then you realise that's only really in comparison to the rather forgettable verse. And by the time the chorus appears for a third time, you get the feeling that the song has already run out of steam, with nowhere else left to go. We're hesitant to comment on vocals during the Thursday rehearsals, because it is mostly a camera rehearsal today after all. But they will definitely need to improve on what we heard from them today, because ain't nobody gonna be voting for those vocals on Satuday night!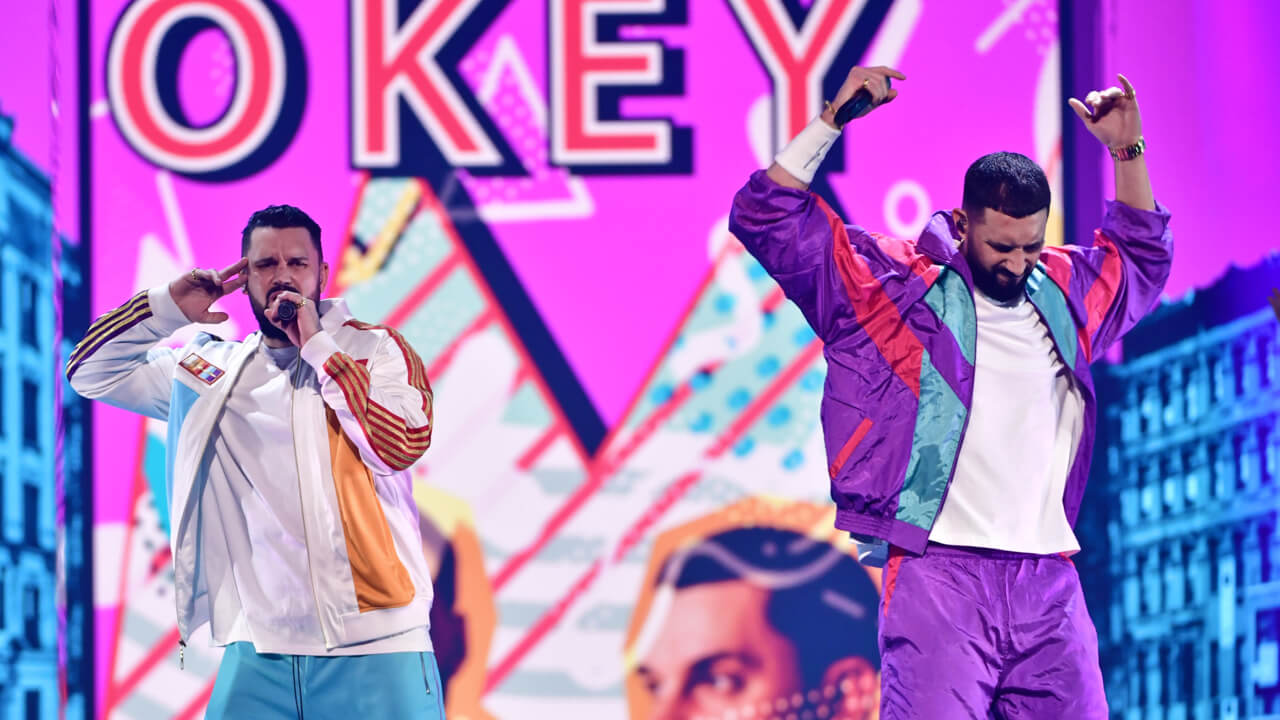 Frida Green – The Silence'
(Anna Bergendahl, Bobby Ljunggren, David Lindgren Zacharias, Joy Deb)
The song has been composed for a knock-out vocal, and fittingly, the staging has been designed in a way so as to take nothing away from the spectacle of that vocal. As such, the vocal is going to need to be both big and flawless on Saturday night. In today's rehearsals, it perhaps understandably wasn't. Frida used the time to manoevre herself around the stage (unlike last week's ballad, it's not a static number that they have planned for us), hitting all the spots and cameras she needed to. But definitely not hitting the vocals she needed to, either, today at least. Frida gifts is with our first pyrotechnics of the the 2021 Melodifestivalen season, and for that we are always grateful.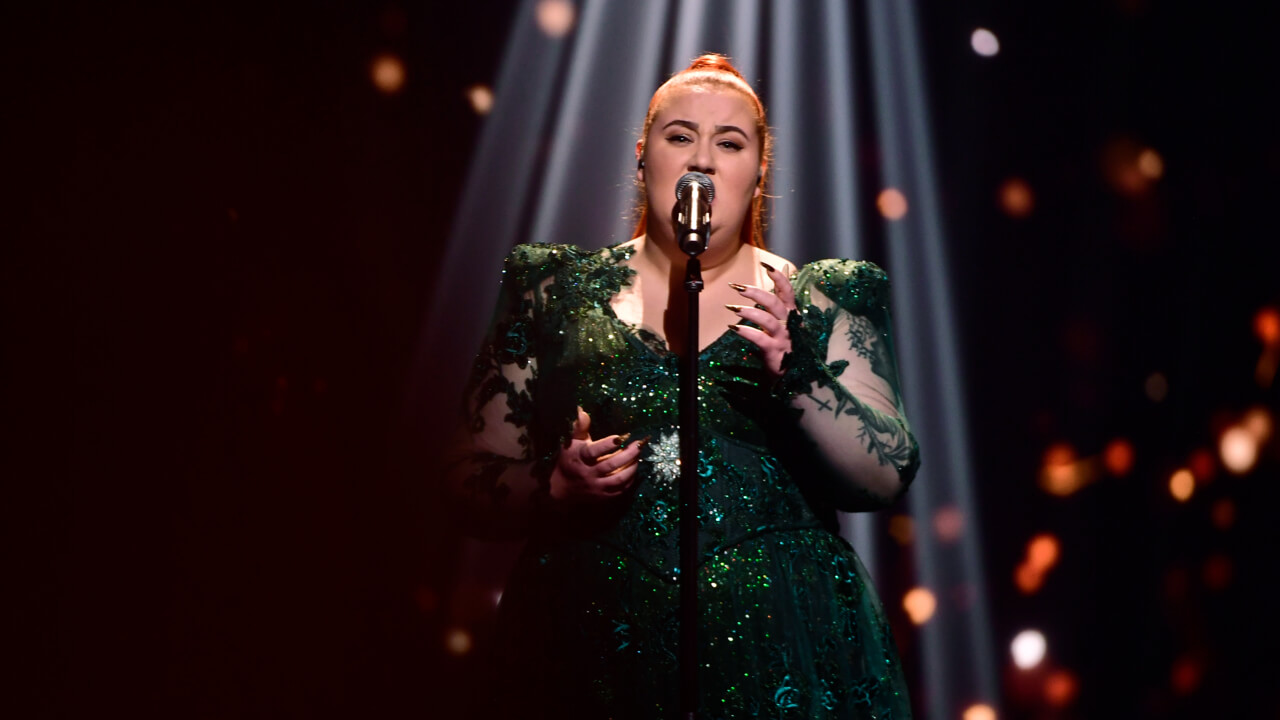 Eva Rydberg & Ewa Roos – 'Rena Rama Ding Dong'
(Göran Sparrdahl, Kalle Rydberg, Ari Lehtonen)
Well this is certainly the most fun we've had since Arvingarna last week. These two old dears seemingly giving us an instruction performance on how best to live it up and enjoy ourselves – and who are we to argue with Eva & Ewa?! Just when you think things can't get any more surreal, their backing dancers appear, in full OAP clobber. And then the high kicks start – not from the aforementioned dancers, but from the ladies themselves. It's honestly so utterly ridiculous (but in totally the right way), that you really do feel like the contest has stopped for a few minutes, and they're treating us to an interval act. In that sense, we're not sure that Swedes are going to view this as being very competitive on Satuday night. But they're sure as hell going to enjoy it just as much as they enjoyed direkt till finalen Arvingarna last week!
Patrik Jean – 'Tears Run Dry'
(Herman Gardarfve, Patrik Jean, Melanie Wehbe)
Despite the fact that he's been releasing his own music independently for a while now, this will be the first time that the majority of Sweden will be introduced to Patrik Jean. And boy are they in for a surprise! Because the performance Patrik gave in today's rehearsal isn't that of a newcomer – it's the performance of a hugely talented artist who has been honing each element of his craft for some time now, waiting for this very moment. It's a ready-made performer being beamed into Swedish homes this weekend, and if Sweden has its eyes and ears open on Saturday night, it should by rights have a whole new fave to get excited over. And there's a lot to be excited about. The song itself isn't rigidly set in any one genre. 'Tears Run Dry' features the soulful pop elements that can be found in Patrik's past repertoire, but also a subtle electro undercurrent too, as well as an instrumental post-chorus that each time feels like a victory lap of sorts after the delivery of the verse and chorus that's preceeded it. 'Tears Run Dry' sounds tailor-made for that Melodifestivalen final in March. No review of the song or performance, however, can go without mentioning the final 30 seconds – the most vocally challenging part of any song we've heard so far in Melodifestivalen 2021. But we have no doubt he'll do it justice on Saturday night, given that he seemed to hit it without even trying in today's camera rehearsal, in which vocals normally play a minor role (and in which they did actually play a minor role for some of the other artists rehearsing today!). Extra points go to Patrik for his dancers – or rather, how he's kitted them out. The dancing element of the song is something that won't go unnoticed on Saturday night. But it will do so without taking any spotlight away from the artist. In that sense it's been beautifully integrated into the staging, and serves as another positive takeaway from Patrik's three minutes.
Dotter – 'Little Tot'
(Johanna 'Dotter' Jansson, Dino Medanhodzic)
It's fair to say that this is the one that everyone will be waiting for this weekend. She knows it, and she hasn't let any of us down. This performance is given with all the tenacity of someone who is fully aware that we've been waiting a year to see what she'll come back and do, and we commend her for having the confidence to commit 100% to that stance – because she's totally correct in that respect. With 'Little Tot', she returns to the contest with something very different to 'Bulletproof', which she absolutely needed to do. The tempo has been increased, of course, but throughout the song it goes through peaks and levels – with her selling each new section of the song to us brilliantly, right down to the dramatically abrupt finish, when all you're left to do as a viewer is to just attempt to contemplate the pop majesty of what you've just witnessed! The performance has none of the trickery of 'Bulletproof', but nor does it need it. Instead, she's adopted the approach of winning us over with nothing but the pure conviction of her performance. And even in today's early rehearsal, with a lot for her to get used to, she hit every note of the intricate performance with great ease. Honestly, we can't remember getting such clear winner vibes from a performance since Loreen returned with 'Euphoria' in 2012. Yeah, that.