(photo: Jan Danielsson)
Today saw the artists competing in the first heat of Melodifestivalen 2021, take to the newly constructed stage at Annexet Globen in Stockholm, for their second day of rehearsals – this time wearing all the clobber they plan on wearing on Satursday night (unless they hate it when they view back the first clips!). It was also the first time that SVT allowed press to watch these rehearsals, and so we've been watching them throughout the day. And living at seeing that new stage unfold before our eyes. Check out our thoughts on each of the performances, and on the full songs, below.
You can listen to 60-second audio clips of each of the seven songs right here. And 30-second video clips will be uploaded to the same site later today.
And for more information about the artists, their songs, and how you can watch and follow Melodifestivalen, you can check out our guide to Heat 1 right here.
Kadiatou – 'One Touch'
(photo: Stina Stjernkvist/SVT)
Without a doubt, the most contemporary of the seven songs this week. Starting off as a cool, deep-house number, it's blossomed into an all-out, euphoric banger by the arrival of the second chorus. It sounds like it could well have been a radio staple all across the continent at any point over the last couple of years, but it's the accompanying performance that really elevates it into something special. Club lighting, slick choreography and the introductory glow of that super-wide stage means that the performance soon turns Kadiatou into the superstar invited to perform the interval number on an episode of Swedish Idol, as opposed to being the contestant on the same show, which she was just a couple of years back. There's a lot to fall in love with over the course of these three minutes.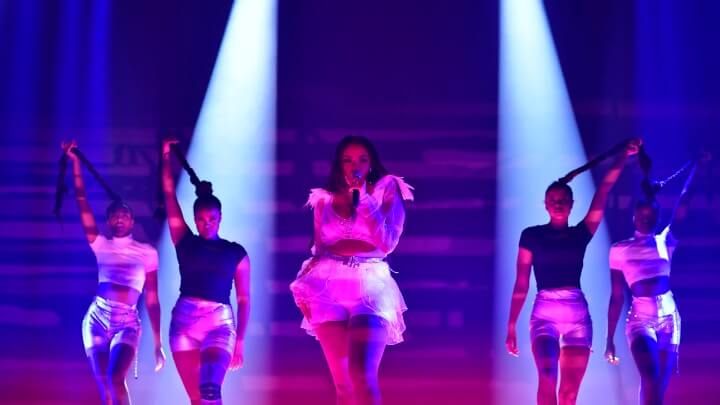 Lillasyster – 'Pretender'
(photo: Stina Stjernkvist/SVT)
Well you know by now that this ain't no scandirock dot co dot uk, but even we can hear that the chorus on this song is undeniable. It's large and loud enough for it to be just the tonic that plenty of Swedes will be seeking when they tune in on Saturday night. It's not our fave in this heat, by any stretch, but we do concede that it could most likely end up slaughtering a few of our actual faves in the voting. Bummer.
Jessica Andersson – 'Horizon'
(photo: Stina Stjernkvist/SVT)
Any initial disappointment that this isn't 'Party Voice' part two ('Part-two Voice'?) is soon quelled by the very exciting realisation that 'Horizon' is actually a really great cross between two songs which finished in the top-three at Melododifestivalen in 2020 – 'Kingdom Come' and 'Move'. The song truly begins with the almighty, thuddering key change that kicks off the second verse. And don't be fooled by what you might think is the ending, either – there's one final bang the song wishes to go out on. Performance-wise it's all rather static throughout – but then why move about when you have 70 metres of fabric and a wind machine to do all the heavy lifting for you!
Paul Rey – 'The Missing Piece'
(photo: Stina Stjernkvist/SVT)
Certainly not the most instant song of the week – in fact, we're struggling to recall any semblance of a melody after even a few listens – but it's got a very strong production in its corner, plus a staging that's luckily been built around that saving-grace element within the song. As the music builds, so too does the stage around him – literally building blocks that move around until they make a neat little box for him to stand in at the end. It's a credit to this year's stage, that it looks like Paul is Rey is performing somewhere completely different to anyone else. It's also worth nothing that no artist is performing to the camera as well as Paul is today, and that should go a long way in his favour on television on Satursday night.
Arvingarna – 'Tänker Inte Alls Gå Hem'
(photo: Stina Stjernkvist/SVT)
Well, who had Arvingarna down as the most surefire finalists of week one? We certainly didn't, although in hindsight we should have known better. These four gents light up that enormous stage like no one else this week, and deliver a tongue-in-cheek, show-stopper of a number that's bubbling, brimming and bursting with unbridled joy. There's nobody having as much fun up there as this group, and they're doing all they can to transmit that to everyone watching at home. Sweden needs this right now. We all need this right now. Get them into that final!
Nathalie Brydolf – 'Fingerprints'
(photo: Stina Stjernkvist/SVT)
Undoubtedly a gorgeous performance of a beautifully-crafted ballad. But in the context of a contest (which we're in, lest we forget), it might just be a little too understated to be competitive. It's too subtle to be that big diva ballad that pulls in votes, and it's too well-produced to be that effortlessly simple number that often charms voters, surprising everyone. Instead, it falls right into the middle of being either. Although it's also slap-bang in the middle of our ranking of the songs this week – in 4th. And if Sweden were to agree with us (but Sweden never agrees with us!), that would be enough to see it progress in this competition.
Danny Saucedo – 'Dandi Dansa'
(photo: Stina Stjernkvist/SVT)
Well he definitely came to the contest with a specific vision for his performance. And he went all in with it. But we reckon some tampering is needed, should he be flexible enough with that aforementioned vision of his. For the performance, he looks like he's in a Jamiroquai video – the iconic 'Virtual Insanity', specifically. But while that's a great concept, it ends up not really going anywhere for what seems like far too long. He spends most of his performance in a box – literally – only coming out to peform a routine with his dancers for the last 30 seconds, which is actually where he really shines most as the charismatic entertainer that he is. The whole thing would be massively improved if he maybe halved his time in that box set-up. And there's still time for him to tinker with that. As for the song itself – well that doesn't really go anywhere either, unfortunately. But there's no time left to tinker with that, so let's not go there…