Over the last seven days, SVT have revealed the 28 artists taking part in Melodifestivalen 2022, the titles of the songs they'll be competing with, and the songwriters behind each entry.
Amongst them, we have three past Melodifestivalen winners, 14 artists who have never competed before, and a pleasing collection of some big fan favourites from the last few years.
It is not yet known which artists will be performing in which of the four initial heats, but once we do know, these are the dates that they'll be slotting into;
Feb 5th – Semi 1 (Malmö)
Feb 12th – Semi 2 (Gothenburg)
Feb 19th – Semi 3 (Linköping)
Feb 26th – Semi 4 (Lidköping)
Mar 3rd- Semi 5 ( Örnsköldsvik)
Mar 12th – Grand Final ( Stockholm/Friends Arena)
Until that kicks off, you can get to know all 28 artists below, and find out just what each of them had to say about the songs they'll be competing with!
Malou Prytz – Bananas
(Ace Wilder, Jimmy "Joker" Thörnfeldt, Joy Deb, Linnea Deb)
With a title like that, it's probably fair to assume that her 'Ballerina' ballad days are behind her for now. And with a songwriting team such as that one on board, we are fully expecting 'Bananas' to usher Malou Prytz into her Main Pop Girl era. She's never really been one to watch before in this competition, but that time is most definitely now. Malou had this to say about 'Bananas': "It's a bit different from what I've done before. I would consider the song as a lesson to myself, and it makes me want to let loose a bit more."
Lisa Miskovsky – Best To Come
(Lisa Miskovsky, David Lindgren Zacharias)
What could possibly have made Lisa Miskovsky come back to Melfest after all this time away? We suspect she might have a Svensktoppen radio smash on her hands, saw what Clara Klingenström achieved this year, and thought: "I'll have me some of that, thank you very much". Don't count her out as a Direkt to Finalen threat to your fave. Lisa had this to say about 'Best To Come': "It's about getting to feel some hope, and seeing the light looking forward, when everything been at its darkest."
Browsing Collection – Face In The Crowd
(Carolina Karlsson, Mimi Brander, Moa Lenngren, Nora Lenngren, Sandra Bjurman, Jimmy Wahlsteen)
Mixing punk and metal and apparently renowned for their live performances (and they've already played at some of Sweden's biggest music festivals), the Jonssons and Malmbergs across Sweden aren't gonna know what's hit them come February. One of the song's writers, Sandra Bjurman, (who penned the 2011 Eurovision Song Contest winner for Azerbaijan), screamed "Hardcore alert! Raddest chicks ever in Mello. Go hard or go home" from her socials upon them being announced – if you were still in any doubt as to what to expect. Browsing Collection themselves, say about the song: "It's a real punky rock-banger and we'll give you a real damn show."
Anna Bergendahl – Higher Power
(Anna Bergendahl, Thomas G:son, Bobby Ljunggren, Erik Bernholm)
Anna reunites with the songwriting team behind 'Kingdom Come', and by calling their follow-up 'Higher Power', it's clear they mean business. Obviously it's completely fair to assume that this will be the best song ever recorded and that's that on that. Anna likens 'Higher Power' to the final part of a trilogy, a sequel to 'Ashes To Ashes' and 'Kingdom Come', adding that: "It's a song that has some darkness to it, but still a lot of power. The viewers can expect a big and powerful feeling."
Medina – In i Dimman
(Jimmy "Joker" Thörnfeldt, Sami Rekik, Dino Medanhodzic, Ali Jammali)
Reuniting for the first time in five years after Sami's glowing report from Melodifestivalen 2021 when he competed with '90-talet', Medina are instantly one of the biggest names in the Melodifestivalen 2022 line-up. They've got Dotter's producer on board, as well as The "Joker" Man who has co-written more songs (six) than any other writer in Melodifestivalen 2022. Medina find themselves competing against each other in February – Sami and Ali have also written LIAMOO's entry. On their own song, they say: "The audience can expect an epic, poewrful feeling of comeback, dance, joy, trumpets, shouting. We're SO excited! Hope you are too!"
Robin Bengtsson – Innocent Love
(David Lindgren Zacharias, Victor Sjöström, Victor Crone, Viktor Broberg, Sebastian Atas)
Robin has a three-out-of-three strike-rate at going Direkt Till Finalen at Melodifestivalen, even going so far as to winning the whole thing and coming 5th at Eurovision for Sweden in 2017. Your eyes may well be going to Victor Crone in that role call of songwriters, but ours are fixated on the fact that Jubël are competing for the first time. They are capable of some truly great things, pop-wise, and so we reckon that Bengtsson is back with a blockbuster. Robin said this about 'Innocent Love': "The song feels so right for this purpose. It's meant to be a lot of energy and joy. I just want to head on stage right now."
Tenori – La Stella
(Dan Sundquist, Kristian Lagerström, Marcos Ubeda, Bobby Ljunggren, Sarah Börjesson Wassberg)
These two tenors (men hej Alexander Grove and Kalle Leander) are said to be mixing the standard pop-opera fare we've all heard before at Eurovision and Melodifestivalen, with something slightly kitsch and pop-orientated. Colour us intrigued. Particularly with Bobby Ljunggren at the helm. About the song, Tenori had this to say: "It's going to be fantastic! The greatest thing is that we now, after a long and dark period, get the chance to meet you, our beloved audience, live."
Shirley Clamp – Let There Be Angels
(Mats Tärnfors, Pelle Nylén, Shirley Clamp, Jakob Skarin)
The grand dame of Melodifestivalen is back, and we couldn't be happier about it. Once a regular in the Melodifestivalen parade, this is her first time competing in eight years. So one can only imagine, hope and pray that it's something truly spectacular that's brought her back, and let her in. On her song, Shirley says: "You can expect a big song, with hopeful, beautiful lyrics."
Lancelot Hedman – Lyckligt Slut
(Lancelot Hedman, Niklas Carson Mattsson)
We've written about this chap a few times on Scandipop, as part of his dance-pop duo Lance & Linton (the search function is at the top-right of this page, if you fancy a listen!). Although since he's gone solo, he's dropped the tempo considerably – picking up a guitar in the process and describing his music as "from the heart", dealing with highs, lows, love, betrayal and self-examination. Having come from a famous family, and being quite tabloid famous himself now, it's hard to imagine he'd enter this circus with anything sub-par, so we have every belief that he'll be competitive. He's also confident about his song, saying: "It's been a rocky ride, but I have finally found my calling. I would say this song is the best one I've written so far."
Tone Sekelius – My Way
(Anderz Wrethov, Tone Sekelius)
Melodifestivalen's first trans artist in its 60+ year history, Tone has already said that this song has been entered into Melfest and rejected a couple of times before. We'd be very surprised if producer-du-jour Anderz Wrethov hadn't brought it right back up to 2022 standards with a bang, though, so we have high hopes for this being a bop and a half. In any case, we're sure Tone's 300,000+ YouTube subscribers will be turning out in support either way. Tone says this about 'My Way': "It's a powerful, upbeat song that I've been involved in writing. It lifts injustices in the world, and encourages you to go your own way."
Alvaro Estrella – Suave
(Linnea Deb, Jimmy "Joker" Thörnfeldt, Joy Deb, Alvaro Estrella)
It's fair to say that we all already know what this is going to sound like, and that we will all unanimously like it and bop to it. And in a line-up with so many uncertainties, that's really quite a welcome relief. Alvaro had this to say about 'Suave': "It's a sexy, fast-tempo, and happy song. I'm envisioning everyone standing up, jumping and shouting and having so much fun."
Malin Christin – Synd Om Dig
(Jonathan Lavotha, Oliver Heinänen, Malin Christin)
She's written for Steps ('Wasted Love'), co-penned a Eurovision 2021 entry ('Je Me Casse'), but thus far her only contribution to Melodifestivalen has been playing the supportive sibling role to her sister Wiktoria. But we are very much looking forward to hearing what she brings to the 2022 contest, on the strength of the debut EP she released a few months back. Malin said this about her Melodifestivalen debut: "It's amost a therapeutic song, it's meant a lot to me. I hope it will come off strong. That's what I want people to feel."
Angelino – The End
(Angelino Markenhorn, Julie Aagaard, Melanie Wehbe, Thomas Steengaard)
From what he's released so far, one could describe Angelino's sound as 'organic'. But with Thomas Steengaard ('Only Teardrops', 'El Diablo' and 'Adrenalina') and Melanie Wehbe ('Love Is Forever', 'Move' and 'Tears Run Dry') on board as writers, we'd be surprised if his ever-so-subtle musical stylings hadn't been revamped into something a hell of a lot more major. He's in very good hands with this lot. Speaking about this song, Angelino says: "It's about a very tough period in my life, where pretty much my whole world was turned upside down. But that also resulted in a new start."
Lillasyster – Till Our Days Are Over
(Jimmy Jansson, Palle Hammarlund, Ian-Paolo Lira, Martin Westerstrand)
In Melodifestivalen 2021 they might have stumbled at the Andra Chansen round, but their song 'Pretender' nevertheless went on to become one of the biggest hits of the year outside of the contest. It makes sense that they're back and it would make even more sense if this was with something even bigger. Be scared. They had this to say about their new entry: "It's about winning, but winning together, and bringing your friend into the victory. It's pure energy."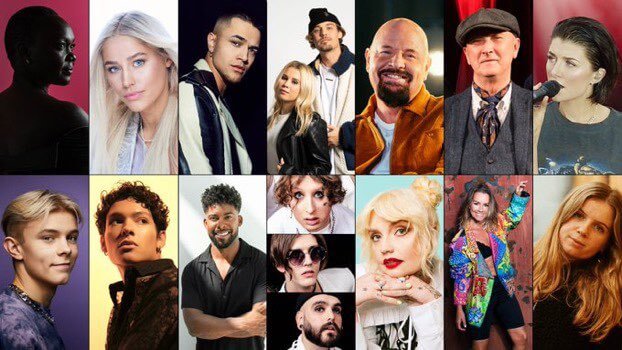 Omar Rudberg: Moving Like That
(Omar Rudberg, Gustav Blomberg, Amanda Kongshaug, Kristin Marie)
He's now famous on a global scale thanks to Netflix's Young Royals series, but of course we all know him from both his boyband past as part of FO&O, and his own solo hits – which include a Melodifestivalen entry back in 2019, 'Om Om Och Om Igen'. We can't imagine he'd be back unless he has what he feels is a winner which will get him out to his new-found international fanbase at Eurovision, so we're expecting big things from 'Moving Like That' – his first original solo song released in English. Omar said this about the song: "When this song was made I just felt 'yes, this is the one'. I'll bring a great performance that I truly hope you'll enjoy. It's dance-friendly and poppy"
John Lundvik: Änglavakt
(Anderz Wrethov, Elin Wrethov, Benjamin Rosenbohm, Fredrik Sonefors, John Lundvik)
He recently went and won the whole thing with 'Too Late For Love', ending up in a respectable 5th-place at the Eurovision Song Contest. It's unlikely he'd be back with anything less than top-level competitive, although the Swedish-language song might suggest he may well be content to be using Melodifestivalen merely as a platform to launch his new album/EP/era, delete as applicable. Either way, his place here is highly intriguing, potentially amazing and most welcome. John said this about his entry: "It's about relationships between people. It's a soundtrack for those who are there for each other no matter what."
LIAMOO: Bluffin
(Jimmy 'Joker' Thörnfeldt, Sami Rekik, Dino Medanhodzic, Ali Jammali)
A former Idol winner, LIAMOO has since graced Melodifestivalen with his presence twice – in 2018 with 'Last Breath', and in 2019 with his Hanna Ferm duet 'Hold You', the latter of which finished in the bronze position. He's recently signed a new record deal and has, from the his Instagram Stories, seemingly spent the majority of 2021 in recording studios. So it's fair to assume that 'Bluffin' is the pick of what we already know is a very large crop. LIAMOO says this about 'Bluffin'; "It's a song with pulse, heart, questions and answers. The audience can expect something very new and outside my comfort zone, yet still very me."
Linda Bengtzing: Fyrfaldigt Hurra!
(Thomas G:son, Linda Bengtzing, Myra Granberg, Daniel Jelldéus)
The fact that she's back is big news in itself. But the fact that she's back with a song co-penned by one of THE biggest artists in Sweden right now, Myra Granberg, is major. Linda Bengtzing competing in Melodifestivalen actually feels competitive for what seems like the first time in a long time! Linda had this to say about her entry: "I want the performance to feel like the party of all parties. We cheer to our memories, and give a four-fold hurrah to existing."
Klara Hammarström: Run To The Hills
(Jimmy 'Joker' Thörnfeldt, Julie Aagaard, Anderz Wrethov, Klara Hammarström)
Finally laying to rest that myth that there is some unwritten rule that an artist can't compete in Melodifestivalen three times in a row, Klara Hammarström will be hoping to continue her upwards trajectory in the contest with 'Run To The Hills'. 2021's 'Beat Of Broken Hearts' ended up being a big jury favourite when it reached the final earlier this year. And we can't imagine she'd enter 'Run To The Hills' unless it was likely to improve on that great result. And Klara has very promising things to say about the song: "I think people will be shocked that I bring this kind of song. My performance this year will be bigger and better. I've never been this excited about participating."
Cazzi Opeia: I Can't Get Enough
(Bishat Araya, Jakob Redtzer, Cazzi Opeia, Paul Rey)
We've been a fan of Moa 'Cazzi Opeia' Carlebecker for over a decade now, since she blessed the world with pop gems such as 'My Heart In 2' and 'Batman & Robin'. In recent years she's been far more interested in focusing on K-Pop than Scandipop, as a super-successful songwriter for the likes of BTS and Red Velvet. If she's returning to the artist game, it's probably because she's got a banger up her sleeve that was just too good to give away – and so we're already very excited to hear 'I Can't Get Enough'. Cazzi says this about the song: "It'll make you so happy that you can't get enough of it. I want people to feel hope, joy, and celebration."
Niello & Lisa Ajax: Tror Du Att Jag Bryr Mig
(Yvonne Dahlbom, Niklas 'Niello' Grahn Linroth, Jesper Welander)
They collaborated together earlier in 2021 with 'Ingen Annan', so it's no surprise to see them paired up again for Melodifestivalen 2022. It'll be Niello's first time competing, but he's in good hands with Lisa who has competed three times before, making the final on each and every occasion. About the song, they had this to say: "It's very happy, upbeat. Attitude, a bit cocky, but it's a joyous feeling. It makes you happy listening to it."
Cornelia Jakobs: Hold Me Closer
(Isa Molin, David Zandén, Cornelia Jakobsdotter)
Some of Sweden will know her as rock-star Jakob Samuel's daughter, others may recognise her from when she competed in Melodifestivalen in 2011 and 2012 as part of Love Generation. And of course regular Scandipop readers will know that she's released her own solo material since then. Still, it's been a while since anyone heard from her. So the fact that she's back – and on a platform this huge – something is a'stirring with 'Hold Me Closer'. She had this to say about the song: "The best thing is that I wrote this song with my best friend Isa Molin and a new friend that has come to be one of my favorite persons, David Zandén. I'm truly looking forward to go on this journey with them and performing this song live."
Faith Kakembo: Freedom
(Laurell Barker, Anderz Wrethov, Palle Hammarlund, Faith Kakembo)
If you haven't blissed out to her Melodifestivalen 2020 entry 'Crying Rivers', then you weren't listening properly. More of the same please, Faith. She says about 'Freedom': "It's a warm and hopeful song. I am incredibly moved by the lyrics and I hope that you will be too."
Anders Bagge: Bigger Than The Universe
(Anders Bagge, Jimmy Jansson, Peter Boström, Thomas G:son)
Nowadays he's more famous in Sweden having been a judge on Swedish Idol since its inception in 2004. And before that, he wrote hits for the likes of Celine Dion, J-Lo, Madonna, Janet Jackson and Enrique Iglesias. Even Azerbaijan hired him as a songwriter for their 2010 and 2012 Eurovision entries. But now Anders Bagge is taking to the stage as an artist in his own right, teaming up with some of the very best in the Swedish songwriting universe. He said that when he first heard the track, he felt it was something that he would like to sing himself, rather than see go to another artist. About his song, Anders says: "It's a real feel good song. It'll bring joy to your heart and soul."
THEOZ: Som Du Vill
(Tobias Lundgren, Axel Schylström, Tim Larsson, Elize Ryd, Jimmy 'Joker' Thörnfeldt)
He's been releasing what many can understandably label kid-pop for the past four years – and he's been doing quite well at it too, thank you very much. But now he's finally at the age where the music he releases can simply be identified as just 'pop'. And what grander platform to finally be able to use as a launch-pad for your bigger and better things? THEOZ says this about his song: "It's about love. My performance will have a lot of showmanship and joy, as well as a lot of dance."
Danne Stråhed: Hallabaloo
(Danne Stråhed, Fredrik Andersson, Erik Stenhammar)
A name that's new to Melodifestivalen, Danne has actually been around since the '70s. His music has been described as everything from rock and folk, to Caribbean, Cajun and Americana. So what he's debuting with in Melodifestivalen 2022 is really going to be anyone's guess. Though we really hope he's going to be leaning towards what he's perhaps most famously known for – DANSBAND! Danne had this to say about the song: "It's happy, has a positive energy, and some influences from ska, a bit of a reggae beat. I think people will want to dance to our song."
Samira Manners: I Want To Be Loved
(Samira Manners, Fredrik Andersson)
The singer/songwriter released her debut single only last year, and has released two more since then. From what we've heard from her so far, we'd describe her sound as light indie-pop – and guess that her decision to participate may well have been influenced by Clara Klingenström's success in Melodifestivalen 2021. Speaking about her song, Samira says: "You feel it, it touches you. It's a rather personal song about wanting to be loved and liked. I think it's something a lot of people can relate to."
Tribe Friday : Shut Me Up
(Isak Gunnarsson, Robin Hanberger Pérez, Noah Deutschmann)
Describing their sound as a mix of indie rock, dance-pop and emo, Tribe Friday may well be Melodifestivalen's own nod to what we're calling "the Måneskin effect". And that does actually make a lot of sense when you think of it. These lot are already the darlings of P3 Radio in Sweden, having been nominated as Group of the Year by them. Tribe Friday said this about their entry: "Our number will be a true Eurovision-show. Glitter, confetti, pyro, Oscar Zia, the guy from Lordi, moshpit….the point being that we don't really know."