It feels like it's been a lifetime. But it returns this Saturday night. What is simultaneously Sweden's most popular TV show, most important pop music event and biggest FEST of the year – Melodifestivalen 2022.
In Heat 1 we have one former winner, one schlager diva,  and one Young Royal amongst the mix. You can get to know them below, read what they have to say about their songs, and find out in what order they'll be competing in on Saturday night.
Keep your eyes peeled on the Scandipop Twitter or Facebook this week (both @scandipop), where we'll be sharing links to previews of the songs (Thursday) rehearsals (Friday), plus your link to watch the grand spectacle itself (wherever you are in the world) on Saturday night.
Malou Prytz – Bananas
(Ace Wilder, Jimmy "Joker" Thörnfeldt, Joy Deb, Linnea Deb)
With a title like that, it's probably fair to assume that her 'Ballerina' ballad days are behind her for now. And with a songwriting team such as that one on board, we are fully expecting 'Bananas' to usher Malou Prytz into her Main Pop Girl era. She's never really been one to watch before in this competition, but that time is most definitely now. Malou had this to say about 'Bananas': "It's a bit different from what I've done before. I would consider the song as a lesson to myself, and it makes me want to let loose a bit more."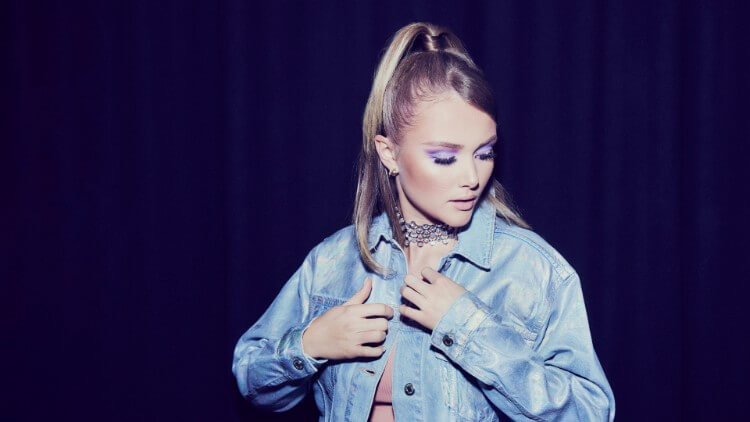 THEOZ: Som Du Vill
(Tobias Lundgren, Axel Schylström, Tim Larsson, Elize Ryd, Jimmy 'Joker' Thörnfeldt)
He's been releasing what many can understandably label kid-pop for the past four years – and he's been doing quite well at it too, thank you very much. But now he's finally at the age where the music he releases can simply be identified as just 'pop'. And what grander platform to finally be able to use as a launch-pad for your bigger and better things? THEOZ says this about his song: "It's about love. My performance will have a lot of showmanship and joy, as well as a lot of dance."
Shirley Clamp – Let There Be Angels
(Mats Tärnfors, Pelle Nylén, Shirley Clamp, Jakob Skarin)
The grand dame of Melodifestivalen is back, and we couldn't be happier about it. Once a regular in the Melodifestivalen parade, this is her first time competing in eight years. So one can only imagine, hope and pray that it's something truly spectacular that's brought her back, and let her in. On her song, Shirley says: "You can expect a big song, with hopeful, beautiful lyrics."
Omar Rudberg: Moving Like That
(Omar Rudberg, Gustav Blomberg, Amanda Kongshaug, Kristin Marie)
He's now famous on a global scale thanks to Netflix's Young Royals series, but of course we all know him from both his boyband past as part of FO&O, and his own solo hits – which include a Melodifestivalen entry back in 2019, 'Om Om Och Om Igen'. We can't imagine he'd be back unless he has what he feels is a winner which will get him out to his new-found international fanbase at Eurovision, so we're expecting big things from 'Moving Like That' – only his second original solo song released in English. Omar said this about the song: "When this song was made I just felt 'yes, this is the one'. I'll bring a great performance that I truly hope you'll enjoy. It's dance-friendly and poppy"
Danne Stråhed: Hallabaloo
(Danne Stråhed, Fredrik Andersson, Erik Stenhammar)
A name that's new to Melodifestivalen, Danne has actually been around since the '70s. His music has been described as everything from rock and folk, to Caribbean, Cajun and Americana. So what he's debuting with in Melodifestivalen 2022 is really going to be anyone's guess. Though we really hope he's going to be leaning towards what he's perhaps most famously known for – DANSBAND! Danne had this to say about the song: "It's happy, has a positive energy, and some influences from ska, a bit of a reggae beat. I think people will want to dance to our song."
Cornelia Jakobs: Hold Me Closer
(Isa Molin, David Zandén, Cornelia Jakobsdotter)
Some of Sweden will know her as rock-star Jakob Samuel's daughter, others may recognise her from when she competed in Melodifestivalen in 2011 and 2012 as part of Love Generation. And of course regular Scandipop readers will know that she's released her own solo material since then. Still, it's been a while since anyone's heard from her. So the fact that she's back – and on a platform this huge – something is a'stirring with 'Hold Me Closer'. She had this to say about the song: "The best thing is that I wrote this song with my best friend Isa Molin and a new friend that has come to be one of my favorite persons, David Zandén. I'm truly looking forward to go on this journey with them and performing this song live."
Robin Bengtsson – Innocent Love
(David Lindgren Zacharias, Victor Sjöström, Victor Crone, Viktor Broberg, Sebastian Atas)
Robin has a three-out-of-three strike-rate at going Direkt Till Finalen at Melodifestivalen, even going so far as to win the whole thing and come 5th at Eurovision for Sweden in 2017. Your eyes may well be going to Victor Crone in that role call of songwriters, but ours are fixated on the fact that Jubël are competing for the first time. They are capable of some truly great things, pop-wise, and so we reckon that Bengtsson is back with a blockbuster. Robin said this about 'Innocent Love': "The song feels so right for this purpose. It's meant to be a lot of energy and joy. I just want to head on stage right now."