It can't be the final already, it can't be! The Melodifestivalen train is in its sixth week, which means it's pulling into the station any day now (Saturday March 12th at 7pm UK time, to be precise). Time to wake up, gather your belongings – we're arriving at The Moment!
How did we even get here? Four heats saw 28 songs reduced to eight finalists. A semi-final (don't call it Andra Chansen, whatever you do!) then gave a last ditch attempt to eight of the next-best placed songs, and Sweden voted through four more finalists. Meaning we now have our 12-song Melodifestivalen final.
Is it a good one? There's not a single song that we don't enjoy in some way or another. There are several songs that we *really* enjoy, like a hell of a lot. And then there's even a potential Eurovision winner in the line-up. So we'd say job pretty well done thank you very much.
A potential Eurovision winner, you say? We should probably keep our cards close to our chest. Hold them really close. Hold them closer. That's right.
And what does everyone else say? At the start of the week, 13 of the Top 20 songs on the Spotify Sweden chart were from Melodifestivalen, with the songs making up all but one position in the Top 10. And that's a result that SVT will be pleased with from their six-week TV show; pretty much on a level of satisfaction that would come with a good result for the winning song in Turin. For SVT, the 28 songs, for the most part, need to be striking a chord in Sweden. And this year, once again, most of them have.
Ok then, let's be seeing this line-up. Let's! Scroll past the pretty image and we'll go through the 12 songs one by one, in the order that they'll be performing on the night.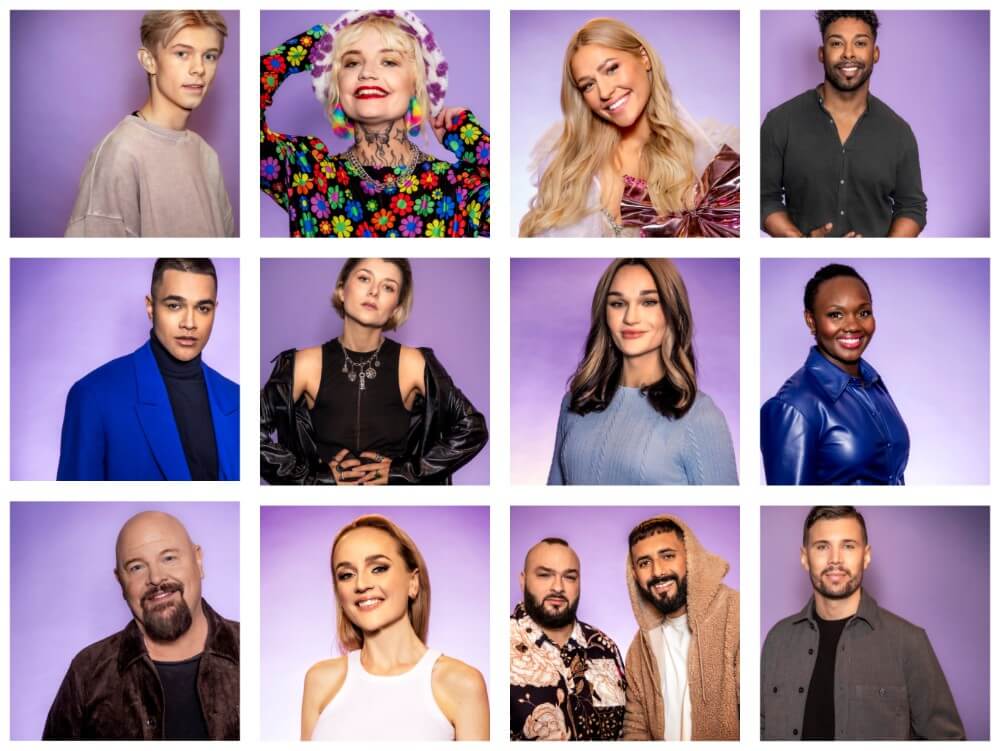 Klara Hammarström – Run To The Hills
If Melodifestivalen were a numbers game, then this would be your winner right here. It's been number 1 on Spotify Sweden since its release almost two weeks ago, to date the only song of Melodifestivalen 2022 to reach the top spot. But as any regular watcher of Melfest will tell you, the final isn't a numbers game. Sweden will be voting for the song they want to represent them on the international stage, rather than simply the song they're currently enjoying listening to the most. And what the international juries will go for is anyone's guess. So despite its popularity outside of the contest, the fate of 'Run To The Hills' inside it is really very far from being a foregone conclusion.
THEOZ – Som Du Vill
Fun for the kids – with 16-year-old THEOZ being one of those kids too, and he's most certainly having fun with it also. Wherever this lands on Saturday night – and we'd guess it won't be anywhere near the Top 5, as excellent a pop song as it is – THEOZ can walk away with one of the biggest streaming hits of the contest this year, and no doubt an open invitation to come back with something much more competitive whenever he likes. An invitation we imagine he's very likely to take at some point in the next couple of years!
Anna Bergendahl – Higher Power
'Higher Power' joining the ranks of 'Ashes To Ashes' and 'Kingdom Come' in the Melodifestivalen final, a decade on from *that* incident in Oslo, is the perfect ending to Anna Bergendahl's much needed Melfest redemption arc. And it's a three-part saga that's been better received than anyone, including Anna herself, could have dreamed of. She'll return home from Friends Arena in the early hours of Sunday morning feeling like a winner, albeit without the trophy that comes with that, this time. And we expect it will probably be the last we hear from her in a competitive sense at Melodifestivalen, for quite some time, as she commences her new career as a doctor of medicine. Job well done Dr B – you gave us everything we wanted and more. We live. Now go save some lives in the medical sense, too.
John Lundvik – Änglavakt
It feels like Melodifestivalen 2022 was only ever one big audition to John Lundvik, for 'Änglavakt' to go down in the Swedish annals of time as being a go-to wedding song standard. And he might just have won, in that respect. One of the benefits of Melodifestivalen for artists at a certain level, is that they can enter with a certain goal in mind for their career, without ever having to actually trudge to Eurovision and risk tainting their already admirable ESC legacy. And by 'Änglavakt' reaching the final but being in absolutely zero contention for the win, it's gone just about as well as John Lundvik could have hoped for. Wedding DJs had best not leave home without this song from here on in.
Tone Sekelius – My Way
A dark horse in the competition that has grown exponentially in popularity throughout the last few weeks. Some would say it's grown bigger, better, smarter, in fact. She alredy had her enormous YouTube and TikTok fanbase, but now Tone has successgully ingratiated herself to a much wider Sweden – broadening the minds of many in the process. Her inclusion in this final line-up is one of the most welcome ones, all things considered.
Anders Bagge – Bigger Than The Universe
The biggest name in the contest, and with what many would argue is the biggest song, too. This man means a lot to loads of people in Sweden. And many of them will be voting for him in their droves on Saturday night. But many more of them, whose heart compelled them to vote for Anders in Heat 3, will instead be voting with their head this weekend, coming to the conclusion that while he's one of Sweden's most beloved celebs, it's unlikely that all that many in people in Europe would care. And they'd probably be right. Once you've stripped away the local celebrity, you're left with a song that is going to struggle to stand out in Turin, in a field of pop music that has moved on a long way from where 'Bigger Than The Universe' currently sits.
Robin Bengtsson – Innocent Love
Had it opened the show, this song would have been an excellent party starter. As it stands, in the middle of this line-up, it serves as little more than an adequate party filler. Robin probably won't be lifting that trophy again on Saturday night, but he will do a stellar job at keeping the good mood moving along just nicely.
Faith Kakembo – Freedom
A gorgeous performance that's gonna be a marvel to watch once again this weekend. This uplifting number might be entirely non-competitive, but its presence at Friends Arena is more than welcome.
LIAMOO – Bluffin
And here's where the competition really starts to heat up again. Even four weeks ago, 'Bluffin' was looking like a serious contender to do well in Turin, should it be selected. But looking at the Eurovision 2022 line-up we find ourselves with today, it's clear that this would stand out as something quite different on that Eurovision stage in May, with a bunch of ballads on one side, and a smörgåsbord of soft rock on the other.
Cornelia Jakobs – Hold Me Closer
The undeniable fan favourite of the year, there are few who are keeping an eye on both Melodifestivalen and Eurovision who don't see this one as being a potential contest winner in May. It's the most internationally competitive song that Sweden has in the running. But as we've all seen from previous Melfests – "when did that ever help?"
Cazzi Opeia – I Can't Get Enough
Despite having to make its way to the final via the semi-final, this song is actually out-performing ALL of the finalists on the Swedish radio airplay chart this week, and is also doing better numbers than most of the finalists on Spotify, too. It's no real surprise when you hear the song – it bangs. And hard, at that. We'd refer to it as the dark horse of Saturday night's final, but in Cazzi Opeia's case, it's more of a rainbow-coloured unicorn. Which makes it even more of a one to watch.
MEDINA – In i Dimman
If you'd told us before Melodifestivalen 2022 that one of our absolute fave songs of the contest was going to be the comeback single of that Swedish rap duo who stole the superior Danish artist's name, we'd have worried for the quality of the line-up of 28 songs. But no – this songs is a grade-A, top-tier, fully-certified BOP! Like Samir & Viktor attempting their own version of 'Tingeling' (if you know, you know), and repurposing it as a football chant. Yes, THAT good. We doubt it will be going anywhere near Turin (unless Sweden are playing Italy in any Euro or World Cup qualifiers any time soon), but what a fantastic note to finish on on Saturday night!
You can find all of the finalists on our Best New Pop playlist.
If you want to watch the whole two-hour extravaganza, you can tune in to SVTPlay.se and watch live – wherever you are in the world – from 7pm UK time on Saturday night.