So, this morning we attended the very final press conference in which the last remaining songs and artists to be competing in Melodifestivalen 2011 were unveiled. So we now have the full line up of 32 entries, which you can read through below. The new artists that we hadn't know about before today, are highlighted in pink.
Semi Final 1 – Luleå, 5th February
'Desperados' – Pernilla Andersson
'In the Club' – Danny
'Me And My Drum' – Swingfly
'Oh My God' – Le Kid
'On My Own' – Jonas Matsson
'Social Butterfly' – Rasmus Viberg
'Something In Your Eyes' – Jenny Silver
'Try Again' – Dilba
Semi Final 2 – Göteborg, 12th February
'Elektrisk' – Anniela
'Ge Mig En Spanjor' – Babsan
'I'm In Love' – Sanna Nielsen
'Like Suicide' – Christian Walz
'My Heart Is Refusing Me' – Loreen
'Oh My God!' – The Moniker
'7 Days And 7 Nights' – Brolle
'Vaken I En Drom' – Elisabeth Andreassen
Semi Final 3 – Linköping, 19th February
'Enemy' – Sara Lumholdt
'I Thought It Was Forever' – Shirley's Angels
'Lucky You' – Linda Sundblad
'No One Else Could' – Sebastian Karlsson
'Popular' – Eric Saade
'Spring För Livet' – Sara Varga
'The King' – The Playtones
'Tid Att Andas' – Simon Forsberg
Semi Final 4 – Malmö, 26th February
'Alive' – Linda Pritchard
'Better Or Worse' – Julia Alvgard
****** – Anders Fernette
'E De Fel På Mig' – Linda Bengtzing
'I Surrender' – Lasse Stefanz
'Leaving Home' – Nicke Borg
'The Hunter' – Melody Club
******* – Love Generation
What an impressive line up of artist names. Nobody can doubt that SVT have pulled out all the stops and drafted in a hugely popular bunch of artists that any fan of Swedish pop music can be excited about. Seasoned musicians like Dilba, Melody Club, Lasse Stefanz, Nicke Borg, Linda Sundblad, Christian Walz, Brolle, Pernilla Andersson, and Swingfly are all entering the contest for the first time. And between them, they all cater to a wide variety of music tastes, and will each be bringing a different kind of fan to the contest. Then you've got new and exciting artists like Le Kid, Love Generation, Loreen, and Anniela, who are also debuting, and will be bringing something fresh to the competition. Plus you've got the returning artists that have all pleased many a Melodifestivalen fan before – from the older divas such as Linda Bengtzing, Sanna Nielsen, Shirley Clamp – to the young 'uns like Eric Saade, Danny, Linda Pritchard, and Sebastian Karlsson.
It's an absolutely fantastic list of artists, that SVT should be highly commended for. We are THOROUGHLY excited by it all!
So, now for our dissection of these new artist announcements. And as always, if you missed our thoughts/biogs on previous artist announcements, just click on the small blue 'Melodifestivalen 2011' tag at the bottom of this post, to find earlier posts.
We met and interviewed all of the new artists this morning, and also Sara Lumholdt and Simon Forsberg (Linda Bengtzing was absent from the press conference unfortunately, but we'll GET HER, don't you worry!). The interviews probably won't be uploaded until next week though unfortunately, as we don't have a lot of time this week. However, we've included some of the main points in the artist pieces below.
Well, we suppose we should start with Mr Anders Fernette – who's been the most talked about artist of the day, although for all the wrong reasons. His song 'Don't Stop' was announced, and accompanied by a loud "oooohh' from most of the press present when it was revealed that it had been composed by JC Chasez (of *NSync fame), Carl Falk, and Kristian Lundin (of Cheiron legendary status). Unfortunately though, it was revealed later today that Carl had uploaded the demo to his myspace page earlier this summer, and it had been subsequently ripped and uploaded to youtube and *NSync fansites by excitable JC Chasez fans. So as a result, the song has been disqualified from the competition. However, SVT have said that the composers and artist have around one week to submit a new song. And if they think it's as good as 'Don't Stop', then they'll be allowed to compete with it. Although can you imagine the drama, if it's decided that it's not good enough?! Anders himself shot to fame in Sweden just under ten years ago, when he won the first season of Fame Factory. He's released music consistently enough since then, with his more recent forays being covers of eighties rock songs. Today he told us how grateful he was to be given a song by such an impressive team of composers.
Love Generation are another act with some confusion as to which song they'll perform. Although it's all above board in this case! The girlband were put together by super producer Red One this year, and wowed with their self titled debut single. For Melodifestivalen, Red One has written and produced two songs for Love Generation, although both are unfinished as of yet. SVT have said though, that once they've been mastered, a decision will be made by them. When we spoke to the girls today, they said that both songs are MASSIVE and very Red One. Uptempo of course. As for the performance, they've got pages and pages of youtube links and ideas that they're going through, and they promise it'll be explosive. They hope to have an album released next summer, although they revealed to us that fan favourite track, 'Good Times', which they performed on some summer shows this year, won't be being released by them, as it's been given to somebody else to record. Oh, and there's only four of them now. Five became four just two weeks ago, when number 5 left the group as she wanted to go solo, and to do a different style of music.
Eric Saade is back! With another Fredrik Kempe composition called 'Popular'. We pulled him up on the fact that when we spoke to him over the summer, he told us that he wasn't sure if he'd do Melodifestivalen again, and if he did, it would be a long way away. However, he said that this new song was just TOO good to turn down. He said that it's better than 'Manboy', and that he realises that he also needs to top the performance of 'Manboy' too. Interestingly, he also told us that he's not in it to win Melodifestivalen this time, but to win EUROVISION! That's the attitude! It's an uptempo song, more clubby than 'Manboy'. We asked him to compare it to a song on his first album – he said 'It's Gonna Rain' and 'Radioactive'. Pleasing.
Shirley's Angels is the return of Shirley Clamp to the contest! She's formed a one off group with her old backing singer sparring partners, Vera Prada (surely the most fabulous name since The Clamp herself?!) and Jessica Marberger. We get the impression it's three old friends having a right old laugh together, and we're looking forward to it immensely. Shirley was absent from the press conference, but we spoke to Vera and Jessica who told us that it was uptempo and fun, and with a key change. And would you just LOOK at that list of songwriters! Robin Abrahamsson, Alexander Bard, Bobby Ljunggren, and Henrik Wikström. Wow! We also spoke to Alexander Bard this evening to congratulate him, and he told us the following nugget which got us even more excited – "You will love Shirley's Angels. It can't get more gay than this, ha ha". Oh. My. God!
Linda Sundblad is a name that will interest many, ourselves included. Her Robyn-esque 'Manifest' album released this year is a big favourite of ours, and she's quite the Swedish pop legend too. She told us that her song 'Lucky You' is her usual sound, but altered to include an Abba-esque warmth to it, specially composed for the contest. It's pop, and she's proud of it. And when we thanked her for one of our favourite songs of the year, 'Serotonin', from her album, she was happy to reveal that the same co-writer is also behind 'Lucky You'! The full team of composers for the song is Linda Sundblad, Johan Bobäck, Fredrik Thomander, and Anders Wikström.
Linda Pritchard is BACK! After debuting in Melodifestivalen 2010 with an uptempo track and only finishing 5th in her heat, she's back to show off her amazing vocals with a huge Fredrik Kempe ballad. She described it as being very classic, and when we asked her if there was a key chance, she replied with "Oh yes, multiple key changes"! We also asked her thoughts on the common fan opinion that her vocals and performance this year were miles better than the actual song itself, and that she actually did a great job of doing the best she could with a not so strong song, 'You're Making Me Hot'. And whilst she agreed to some extent, and was aware of that opinion, she still has a great love for the track. Aaaawww!
Sebastian Karlsson is also back for a second time. He told us that he was looking forward to enjoying it a lot more this time around, as he was so nervous last time. He described his song as an uptempo mix of guitar pop and synth pop. And he'll have a new album ready to be released after the contest. Sebastian found fame in Idol, and has spent the last year touring around playing the part of Danny in Grease, to Marie Serneholt's Sandy. And he's so hot in person!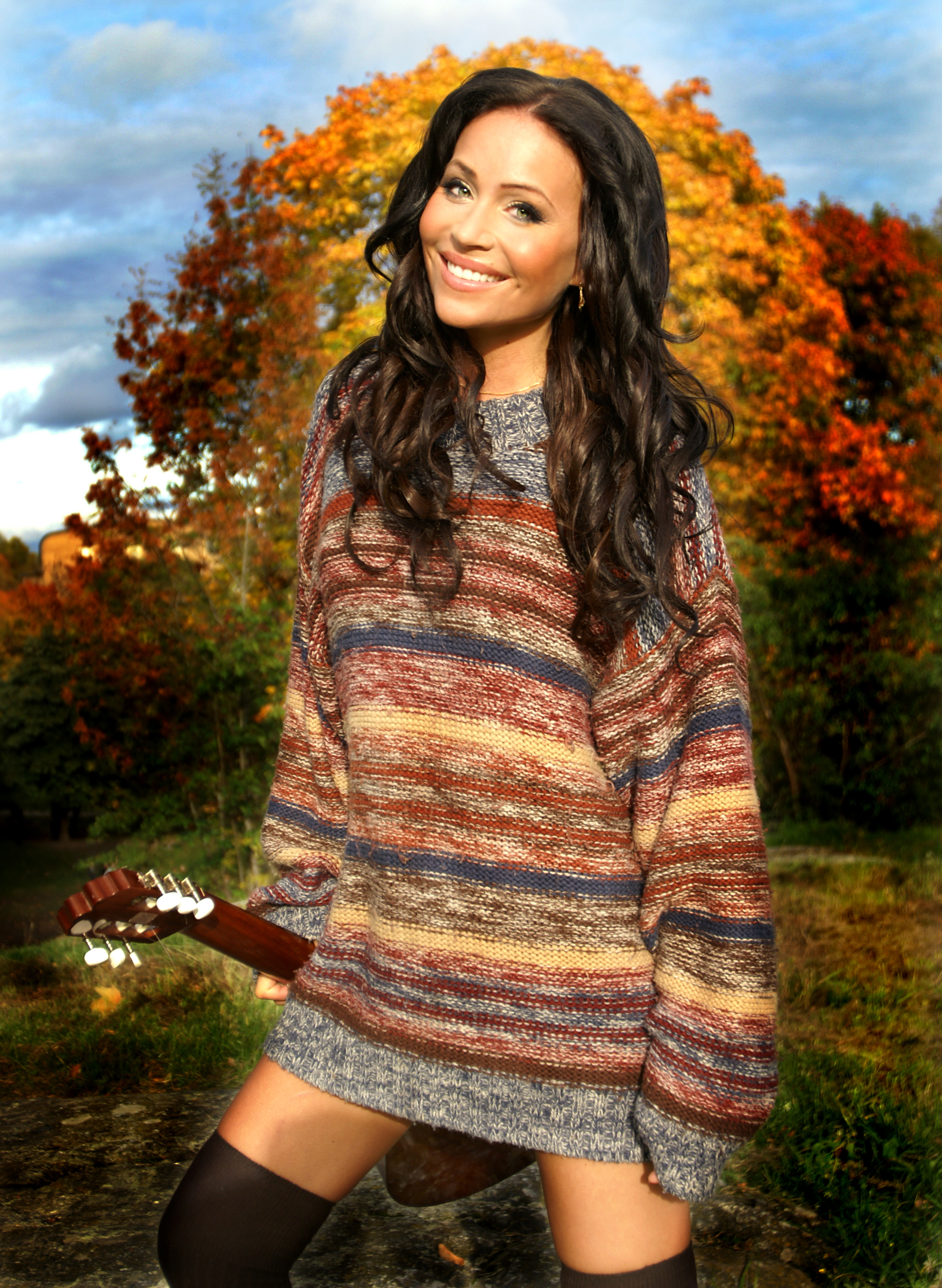 Finally, Sara Varga is a Melodifestivalen debutante. Although she's not new to music, having released an album before. She's Roxy Recordings latest singing, and shares the same management as Eric Saade. She described her song 'Spring För Livet' to us, as a downtempo, melodic guitar pop song. She composed it along with Fredrik Boström, whom we love.